Tooth Replacement | Nottingham Dental
At Nottingham Dental, we offer a wide range of tooth replacement options such as Dental Implants, Porcelain Bridges, Full or Partial Dentures, and All-on-4 Implants. Please read more for a detailed overview.
Are you missing several teeth? Speak to our dentist about our tooth replacement options. Book now.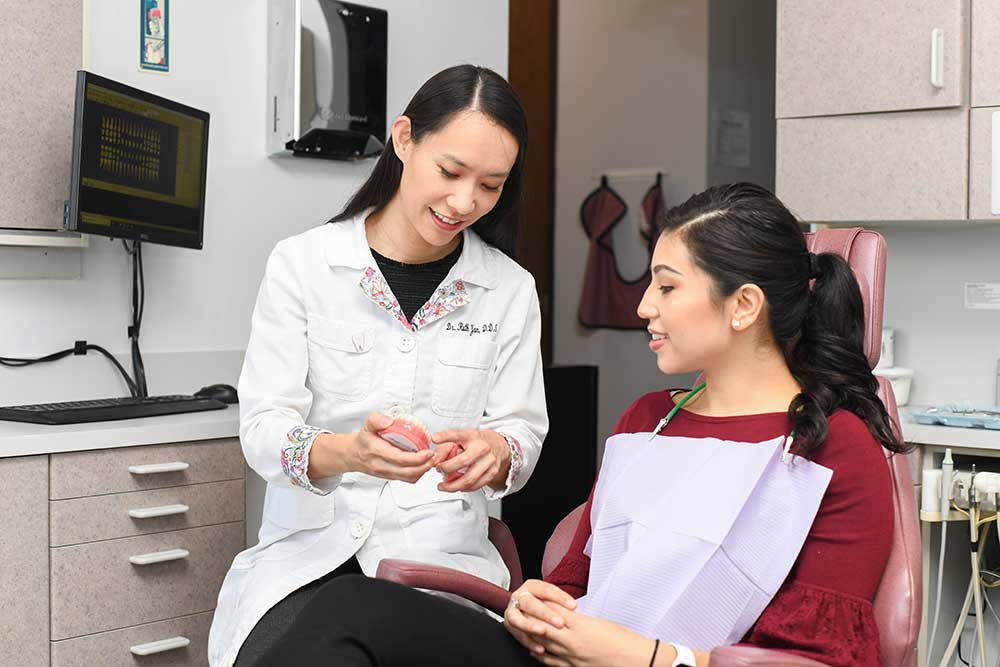 A few years ago, if you lost your tooth, you didn't have a lot of tooth replacement options. At most, you would have used dentures that were poorly-constructed and came off every time you spoke. However, in recent years, thanks to advancements in dentistry, a number of teeth replacement options have sprung up. As it now stands, you're spoiled for choice on how to replace your existing teeth and there are options available for people on all kinds of budgets.
Your permanent teeth are supposed to last a lifetime, but it doesn't always work out like that. You may lose some or even all of your teeth because of an accident, injury, dental decay, disease, or poor oral health. Even a single lost tooth can drastically affect your aesthetic appearance and the functionality of the rest of your teeth. A single missing tooth can make your other teeth start drifting, affecting the delicate balance of your teeth. That's why you must replace missing teeth, even if you've lost one tooth and even if it's not even visible.
At Nottingham Dental, we offer many tooth replacement options for you. Call us today to learn more!
What are Tooth Replacement Options?
At Nottingham Dental, we offer a wide range of tooth replacement options such as Dental Implants, Porcelain Bridges, Full or Partial Dentures, and All-on-4 Implants. All of these tooth replacement methods have their unique advantages and disadvantages. Please continue reading for an overview of some of the best tooth replacement options out there.
Implants

Dental implants are one of the best methods for tooth replacement out there. An Implant isn't a replacement for the visible tooth but rather for the root of the tooth. Implants are metallic or titanium posts lodged into the jawbone of the empty socket of the missing tooth. The implant is screwed into the jawbone. Over a period of 3 to 6 months, the jawbone naturally grows around the implant, thus making it a natural part of your body, just like an actual tooth root. Once that's done, you can attach dentures, dental crowns, or dental bridges over the implant.

Porcelain Bridges

Porcelain bridges are a series of fake or artificial teeth supported on either side by dental crowns or dental implants. The fake teeth are known as pontics and the supporting crowns are known as abutments. If you've lost a series of teeth, then porcelain bridges are one of the best teeth replacement possible. There are several different types of porcelain bridges. 

Full or Partial Dentures

Dentures are removable appliances you attach on your gums as a replacement for some or all of your missing teeth. Full dentures are a complete set of replacement teeth with a full arch, meant to be used if you've lost all your teeth on one or both arches. Partial dentures are used to replace some of your teeth and they're supported by your existing healthy teeth. Dentures are some of the most cost-effective means of replacing missing teeth. However, dentures are also extremely inconvenient because they keep coming off (especially when you eat or talk) and they require a lot of special maintenance.

Full or Partial Dentures

All-on-4 implants are a modern and more effective means of wearing dentures. Traditional dentures have one major issue — they keep coming off when you eat or speak. All-on-4 implants is a technique wherein the dentist plants 4 strategically-located implants on your mouth to support dentures permanently. The dentist finds areas in your mouth that can perfectly support the dentures and they use computer technology to locate areas with sufficient bone structure. Based on that information, they lodge the implants and then attach the permanent dentures after the healing period is over.
Schedule your Tooth Replacement Appointment
Nottingham Dental is one of the best tooth replacement clinic in Katy, TX. We have some of the world's finest board-certified dentists — Dr. Chen and Dr. Yan — who will carefully examine your teeth and mouth and listen to your budgetary considerations to determine which tooth replacement option is most suitable for you. Nottingham Dental is also affiliated with all the leading insurance providers in the country and we can help you get one of the best coverage possible for your treatment. For more information, please schedule your tooth replacement appointment today.