Dental Onlays | Nottingham Dental
Onlays are used to fix small fractures and cracks on your teeth by bonding porcelain or composite resin materials to the damaged area. Please continue reading for a discussion of onlays at Nottingham Dental.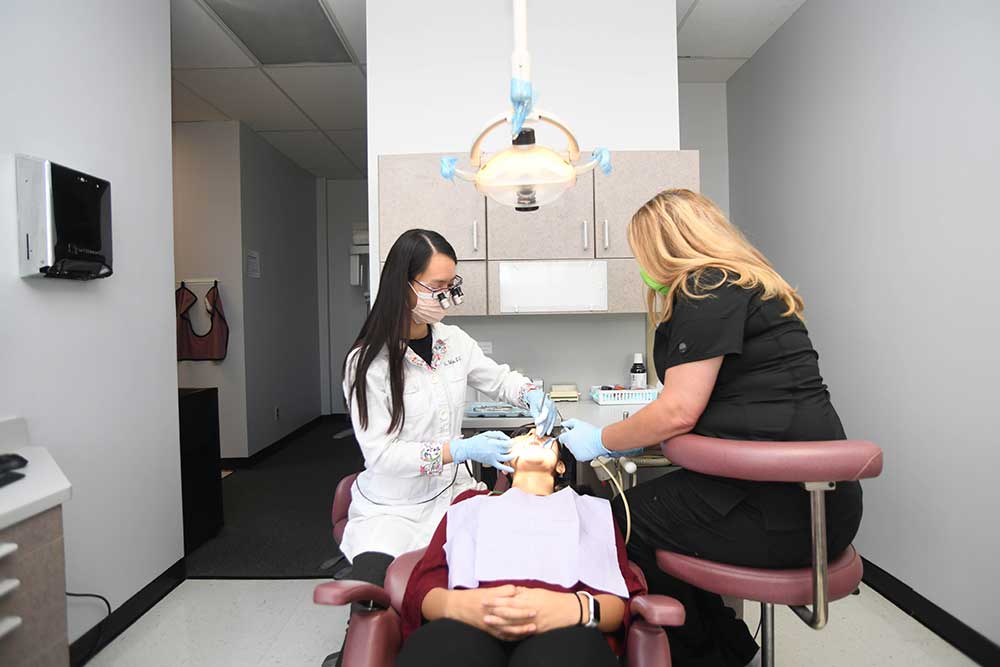 Are you looking for a dentist in Katy Tx that offers restorative dentistry? Schedule your appointment with us today!
Do you have a broken or fractured tooth? If so, you may be afraid that you'll lose the entire tooth or that you'll have to get a tooth replacement. However, thanks to modern cosmetic dentistry, we have the ability to fix and restore your tooth while maintaining most of your tooth's natural structure and without having to do anything drastic.
Your teeth may get damaged because of various reasons —nature wear and tear of the enamel, physical impact, cavities, bruxism, or other reasons. If a large part of your tooth is broken, you may need to replace it with a dental crown or bridge. However, if the fracture isn't too large, then you can restore it with onlays. This is a procedure by which you can restore or fix small fractures and cracks by bonding a piece of porcelain or other tooth-colored materials to the damage.
One of the best part of onlays is that it's a minimally-invasive and simple approach that has both functional and cosmetic value. It enhances the visual appearance of your tooth while also preventing worse complications from occurring. Please continue reading for a detailed discussion of the onlays procedure at Nottingham Dental.
Are searching for an affordable dentist katy? Look no further! Book your appointment with one of the best dentist in Katy Tx today.
Dental onlays are fillings made of materials like ceramic, porcelain, composite-resin, i.e., tooth-colored materials often used in cosmetic dentistry. During the onlays procedure, the dentist bonds the onlay material to your fractured or cracked tooth to fill up the cavity. This procedure is often used instead of dental fillings because it's minimally invasive and the bonding material can also extend to the chewing part of the back tooth, which makes it more effective in some cases. It immediately strengthens your teeth.
If you are in need of a restorative dentist in Katy Tx, Nottingham Dental has you covered! Book online today.
Dental Onlay vs. Dental Filling
Dental onlays are a lot more durable and they last longer than fillings. Most importantly, dental fillings can't fix the damage inflicted on the cusps of the teeth but dental onlay can. The main reason people prefer dental fillings is that it's an immediate procedure — you have to wait a few weeks for the dental onlays and wear temporary fillings in the meanwhile, but you don't have to wait for fillings. Your dentist will generally recommend dental onlay in the following scenarios:
If the damage, infection, or crack has spread to the cusps of your teeth.
Dental fillings require some of your original teeth to be removed. However, if the damage is too large, the dentist may recommend an onlay because then more of your original teeth can be preserved.
If you're not a suitable candidate for dental crowns, the dentist will opt for dental onlays.
We offer free insurance verification for your convenience. Call us today to find out if you are covered!
The following is an overview of the steps involved in the dental onlay procedure:
The dentist uses anesthesia to numb the affected parts of your mouth.

The dentist will have to drill into your affected tooth using a laser, drill, or air abrasion device to remove all the infection and damage. The dentist will also clean the cavity to remove all bacterial infection and debris.

The dentist will take digital scans of your teeth and take a mold of your teeth and send it over to a laboratory so they can prepare the onlay according to the damage in your teeth. Meanwhile, you'll have to wear a temporary filling.

Once the onlay is prepared in a few weeks, the dentist will apply it to your teeth. It will bond with your teeth and repair the damage.
Dental Onlays Q&A
Dental Office near me in Katy, Tx
Cosmetic dentistry is useful in a number of situations. A cosmetic dentist can transform your smile in the following ways:
Teeth whitening using a bleaching gel or laser.

Dental crowns to cover up your existing teeth if they have several deformities like cracks, fractures, intrinsic stains, etc.

Dental veneers to place tooth-colored wafers over your teeth to transform your smile without making massive changes to your original teeth structure.

Repairing fractures and cavities.

Orthodontic procedures to fix crooked or misaligned teeth.
The following is a quick overview of the advantages of dental onlays:
Sometimes, the external part of your tooth is too damaged for either dental crowns or dental fillings. That's when dental onlay is used because it's a strong filling material that bonds to the structure of your tooth and protects it.

When your teeth get damaged, it's often recommended that you get dental crowns. However, crowns are an extremely invasive procedure in which your original teeth have to be filed down to a small stub so the crowns can be attached. However, dental onlay can also repair significant damage but without having to remove parts of the original tooth, making it a more conservative approach.

Dental onlay is also useful when the filling is necessary inside the tooth because it can fill up the hollows in your teeth and strengthen them from inside.

Dental onlays reduce your teeth's sensitivity.
Get Your Dental Onlays Today
Nottingham Dental is one of the best cosmetic dental clinic in Katy, TX. We have some of the country's best board-certified cosmetic dentists who can study your teeth and offer reliable advice on which cosmetic procedure can transform your smile most effectively. If you have cavities or cracks in your teeth, we'll study your teeth and determine if you're the right candidate for dental onlays. For more information, please schedule your dental onlays appointment today.